Wanna help people torch calories in a dark room with great music?
Astronauts need not apply.
Lunar Cycle is Grand Rapids' only 100% focused indoor cycling studio. Our instructors deliver a variety of cycling formats built with the latest in exercise science. Not your average spin class, Lunar Cycle's 45-minute classes are designed to blast riders out of their daily grind with workouts that will fly by!
GROUND CONTROL (aka RIDER RELATIONS)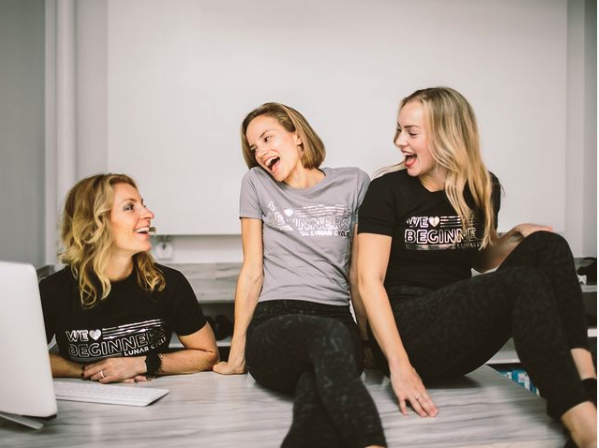 Lunar Cycle is seeking an enthusiastic, smiley, and friendly Cycling Studio Staff Member ("Ground Control") to contribute to our riders having a fantastic experience from the moment they launch with us. The person who is a perfect fit for this position will be naturally outgoing and happily ensure seamless check-in and set-up of riders and positively address any concerns whenever they arise.
Welcome guests and members by name.
Introduce first-time riders to instructors. 
Answer questions that riders may have.
Process sales transactions and check-in riders for class. 
Prepare the classes for opening and closing, including rider safety checks and sanitization protocols.
Help in understanding and improving rider experience and feedback.
Inform instructors of pertinent information at the end of the shift.
Help riders purchase memberships, class packs and other offerings.
Assist in lifting and storing equipment and help arrange studio in preparation for classes and special events.
Follow and help implement studio procedures and safety protocols.
Additional duties as assigned.
High School diploma but college degree preferred.
Sales/customer service experience preferred.
Excellent communication, customer service skills, and work ethic.
Efficient, well organized, and able to handle a variety of duties simultaneously and problem solve. 
Energetic, enthusiastic, and motivational.
Strong team player. 
Punctuality and reliable.
Proficient in appropriate computer skills and office equipment.
INSTRUCTORS (aka MOON ROOM COMMANDERS)
Do you have an insane passion for indoor cycling? Do you live to help others improve their health and happiness? Have you sometimes wanted to be a DJ creating your sick playlists?
Lunar Cycling may be your place to land as one of our exceptional instructors. The key ingredient in all of our staff is a positive attitude and a welcoming, friendly spirit!  Reach out to us today or use the form below!
Daytime availability is a HUGE plus ++
Help awesome riders torch calories over hot beats in a dark room. You'll deliver a workout that will push riders but also sizzle with fun. 
Our Moon Room is a judgment-free zone. We welcome riders of all shapes, sizes, fitness levels and fitness experiences and help them find success and community here.